Bass addition for our active loudspeakers and as subwoofer for our passive high-end loudspeakers
with cardioids characteristic
Maximum SPL
measured at f = 63 Hz

122 dB / r = 1 m (3.3 ft); 2 pi
25 Hz ... (60 Hz ... 80 Hz, cont. adjustable) - 6 dB; 2 pi
with HPF
40 Hz ... (60 Hz ... 80 Hz, cont. adjustable) - 6 dB; 2 pi
LFE
25 Hz ... 120 Hz - 6 dB; 2 pi
Total harmonic distortion
measured at PE = - 14 dBu and f = 50 Hz
Inherent noise sound level
- 9 dBu ... + 6 dBu adjustable
Nominal Output level HP
CH1, CH2

+ 6 dBu at 2 kOhm balanced
Output power of the PWM-amplifier
Electronic Crossover frequencies
TP 24 dB / Okt.
HP 12 dB / Okt.
adjustable from 0 ... 1 m (3.3 ft) difference to the front speaker's plane
90 ... 132 V, 55 ... 65 Hz or 190 ... 265 V, 45 ... 55 Hz
20 VA at stand-by, max. 500 VA at full load
Operation and Clipping indicator
3x XLR 3M
1x Speakon NL4 (activation BASIS 11KP
Connector for bypass-mode switch (Remote)
Connector for BCU7.1 (MPI)
550 x 500 x 430 mm (21.6 x 19.7 x 16.9 in)
for use
+ 15°C ... + 35°C (59°F ... 95°F)
for storage
- 25°C ... + 45°C (- 13°F ... 113°F)
MDF-wood in ash black veneered; optional different veneers or colors
with handles; optional without handles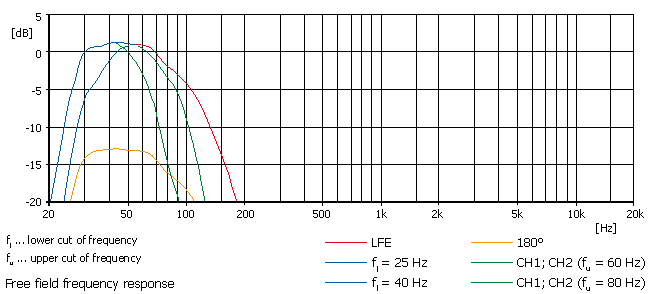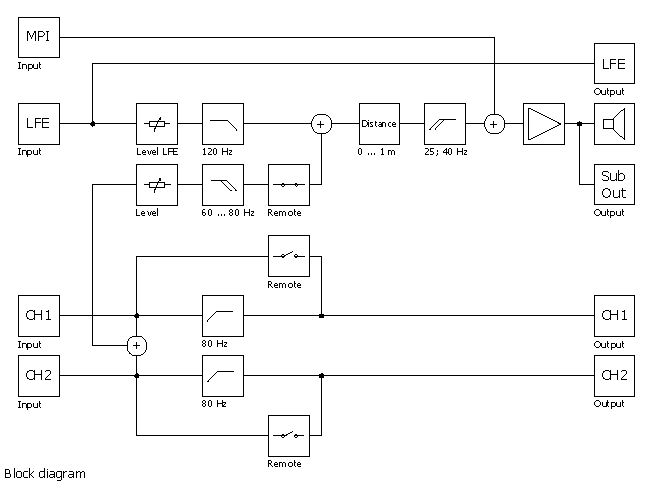 Brochure and Documentation
Standard veneer ash black (RAL9005), optional veneers and optional colours
We offer our loudspeakers in standard veneer ash black (RAL9005) or for an additional charge in different optional veneers respectively optional colours. This website provides an overview on the optional veneer and lacquer styles. We are pleased to check if your desired individual veneer and colour can be realised.
Important information about deviations from sample pattern
Wood is a natural product. Even the most thorough manufacturing can result in deviations in colour or structure and is no cause for complaint.
Images are represented differently on every screen and hence not colour-proof.